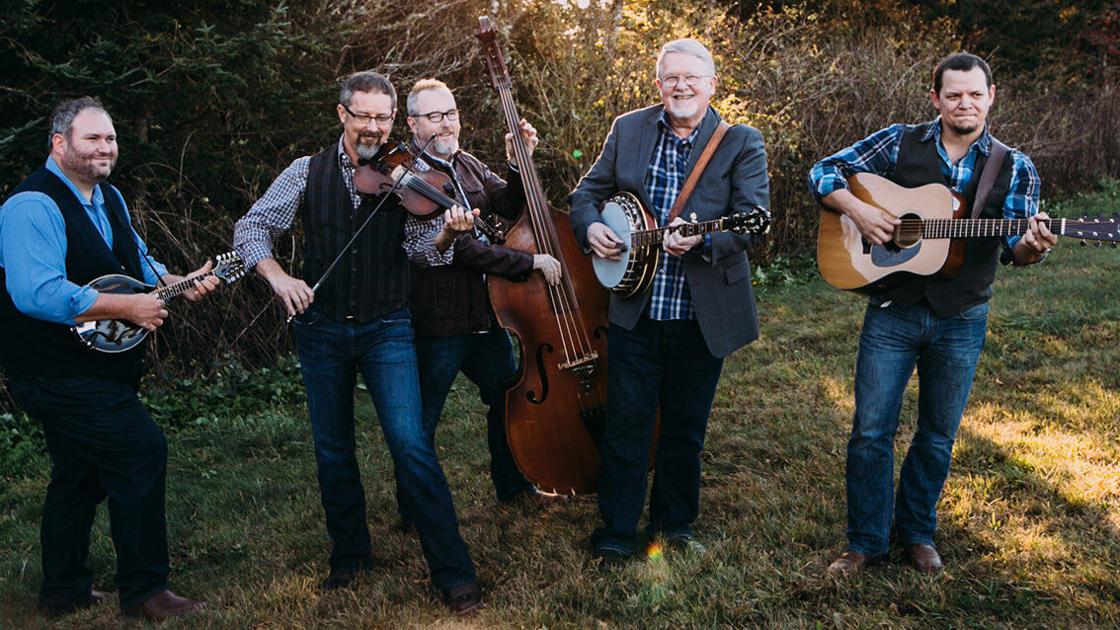 Balsam Range's "Richest Man" is Song of the Year | New
Two-time Artist of the Year from the International Bluegrass Music Association, Balsam Range and Mountain Home Music Company and Organic Records' Bluegrass at the Crossroads series took home awards on Thursday.
The occasion was the presentation of the IBMA Awards at the Duke Energy Center for the Performing Arts in Raleigh, with Balsam Range's "Richest Man" named Song of the Year and Bluegrass at the Crossroads' "Ground Speed" winning the instrumental recording of the year.
Earlier this week, rising artist Jaelee Roberts won the Momentum Vocalist of the Year award.
Balsam Range's "Richest Man" – now IBMA's Song of the Year – was the first of several singles from their new album, Moxie and Mettle, to reach No. 1 on the Bluegrass radio charts. The award comes in addition to more than a dozen IBMA accolades the group has won.
"The Richest Man" shares an important lesson on recognizing what really matters and draws comparisons between material wealth and other types of abundance, challenging perceptions of what it means to be "the Richest Man" richest man in the cemetery ".
"Who hasn't thought of being the richest man? But what defines being rich? Living a life without regrets is easier said than done. Sacrifices made for gain can seldom be undone, "says Buddy Melton, Balsam Range violinist and 2-time IBMA Male Vocalist of the Year. "Things lost and things gained will only manifest over time. The old saying "You can't take it with you" comes to mind when I hear "Richest Man" and the theme resonates throughout the song as it says "we all come out the same way we do. walked in… with nothing. So why the hell are we always worried about nothing, nothing? ' "
Bluegrass at the Crossroads took home the instrumental recording of the year award for "Ground Speed", a nod to legendary banjo player Earl Scruggs. Written by Scruggs and recorded in 1959, the song was chosen by award winner Steve Martin Banjo and 4-time IBMA Banjo Player of the Year Kristin Scott Benson (The Grascals), who says that "maybe it is my favorite Scruggs track. It has a great melody and two signature B parts, but it can absorb a lot of other ideas as well. "
"Recording an old standard was a lot of fun," said Darren Nicholson (Balsam Range). "I love to breathe new life into some of those old songs and put our twist on it. Bluegrass is one of those really cool genres that always goes forward but turns around and takes its hat off to the past – you're paying homage to the old and forging something new at the same time. Earl Scruggs and his contemporaries were groundbreaking and put their own stamp on songs when they were originally recorded, and now I hear these great musicians also put their own stamp on it.
In addition to Benson and Nicholson, the fiery instrumental features Jeremy Garrett (violin) from the Infamous Stringdusters; Sideline guitarist Skip Cherryholmes; and Kevin Kehrberg, bassist for Zoe & Cloyd from Organic Records.
"We are so lucky to have Darren, Jeremy, Kevin, Kristin and Skip in our Mountain Home and Organic Records families," said series producer Jon Weisberger. "I thought these longtime friends from across the bluegrass spectrum would make some fresh and exciting music together, and we are all so grateful that IBMA voters agreed."
Rising bluegrass singer Jaelee Roberts was named Momentum Singer of the Year at Wednesday's IBMA Momentum Awards luncheon.
Roberts signed with Mountain Home last year and released three singles, "Something You Didn't Count On", "Still Waters" and "Think Again". She also performs with Sister Sadie, who was named Vocal Group of the Year.
Although she grew up in a musical family, it was not inevitable that Jaelee would go into music, but with longtime musicians and industry professionals for parents, the opportunities to learn from – and alongside – musical heroes were frequent; By the time she entered her teens, she had recorded as a singer not only with her father, but with the Daughters of Bluegrass backed by Tom T. and Dixie Hall, and before graduating high school she had been chosen in two consecutive years as a participant in the vocal track in the industry-leading GRAMMY Camp. Most recently, she was shortlisted for the IBMA Songwriter Showcase Jury.
Today, the young singer-songwriter is enrolled in the renowned songwriting and music business programs at nearby Middle Tennessee State University as she immerses herself in the vibrant youth community. emerging bluegrass, country and roots musicians in Nashville.