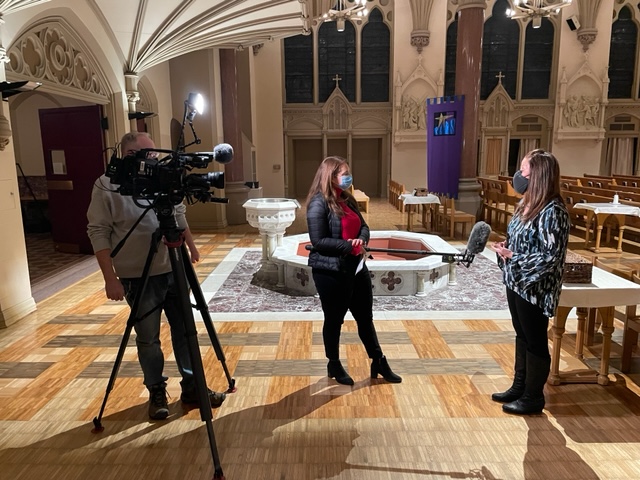 Pandemic Spurs SLU Music Professor to develop the VocalEase: SLU mask
The singers donned a new mask at the Saint Louis University Mastersingers concert on Tuesday, December 7 at St. Francis Xavier College Church. The mask is the brainchild of an assistant professor SLU and is taking the market by storm.
As a professional singer and voice teacher, Stephanie Tennill (A&S '99) observed a critical issue for singers and speakers who appeared to be overlooked at the start of the pandemic – the lack of a mask to help prevent the spread of COVID-19 which has also provided the clarity, comfort and protection that voice performers need. To meet this need, she created VocalEase, an acoustically transparent mask for speech and vocals. With the help of SLU's Research Innovation Group, Tennill's solution is now a reality, with the masks being commercially available.
"We are delighted to offer a mask that not only allows singers and speakers to regain the beauty of a full vocal relationship and good vocal health, but to do so with a high level of aerosol protection." said Tennill, assistant professor of music in the Department of Fine and Performing Arts.
"COVID has taken our voices away, and now is the time to take them back!" "

Stephanie Tennill
Voice communities ranging from amateurs to elite professionals no longer have to choose between security and sound, Tennill said.
Tennill worked with Andrew Hall, D.Sc., Associate Professor of Biomedical Engineering and Director of the Additive Manufacturing Center at SLU as well as professional costume designer Noelle Wagner. She also worked with Anne K. Miller, Director of Research Commercialization at SLU's Research Innovation Group, and other colleagues to develop the mask and file a patent assigned to SLU.
Hall got involved after developing an alternative to the N-95 mask for hospital use and said he was familiar with mask design, testing requirements and methodologies. Hall used special equipment called PortaCount® to test the aerosol particle filtration of the masks as well as their fit and function.
"In preliminary filtration tests, the VocalEase mask achieved filtration levels of 62-67% when tested in the aerosol particle range of 0.2m to 1.0m, the most vulnerable range. for filtration, "Tennill said. "This is well above the Level 2 performance standard as set forth by the American Society for Testing and Materials for barrier face covers, and above most everyday wearing masks as well as current singing masks on the market. "
Several Tennill students, like London Kimble, tested the masks and provided valuable feedback. Kimble is a second year student at SLU with a major in Theater and Communications and a minor in Music and Dance. She has performed in theatrical productions at SLU and acts professionally through Talent Plus. She said regular cotton masks have many drawbacks for singers and presenters.
"Masks cut off your oxygen supply, which makes it difficult to breathe deeply. We start screaming so as not to sound muffled, which induces vocal strain and strain, "Kimble said. "We also have a limited range of motion when singing or speaking while wearing a mask, which can cause strain in our jaws and the bases of our tongues. "
Kimble said the VocalEase mask allows you a full range of motion and respiratory support, almost like you're not wearing a mask at all.
These feelings were shared by professional mezzo opera singer Emma Rose Sorenson.
In fact, interest in the product skyrocketed after Sorenson got excited about the mask's performance in a viral TikTok video. Tennill had previously provided Sorenson and other directors with masks to wear during indoor rehearsals while in town for a performance of "Hoffmann's Tales" at Union Avenue Opera this summer.
VocalEase gives back
Tennill approaches VocalEase with the mindset of a social entrepreneur.
"I didn't start this project to start a business but to solve a problem," Tennill said.
As CEO, she says the company is proud of its positive social impact achieved through its partnerships. The masks are made with The Collective Thread, a local nonprofit cut-and-sewn product maker that provides economic empowerment to vulnerable refugee and immigrant women by teaching them new skills and providing them with decent-paying jobs. To meet its packaging and fulfillment needs, the company works with JSI, which provides employment for adults with developmental disabilities, to help meet packaging and fulfillment needs.
A portion of the proceeds from each mask sold goes to the New York-based nonprofit Sing for Hope, where Tennill attended graduate school and worked professionally before moving to St. Louis after accepting his position. current at SLU. The company also donates free masks to vocal programs and artistic initiatives in underprivileged communities.
"For every 100 masks made, we continue to allocate about 10 to donate," Tennill said. "We have already donated several hundred masks and look forward to continuing to provide them free of charge to vibrant voice communities in need. "
To learn more, visit www.vocaleasemask.com
About Saint Louis University
Founded in 1818, Saint Louis University is one of the oldest and most prestigious Catholic institutions in the country. Rooted in Jesuit values ​​and its pioneering history as the premier university west of the Mississippi River, SLU provides more than 12,000 students with a rigorous and transformative whole-person education. At the heart of the University's diverse community of scholars is SLU's service-oriented mission, which challenges and prepares students to make the world a better and fairer place.