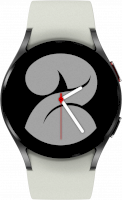 YouTube Music is now available for the Galaxy Watch 4
Samsung's new smartwatches, the Galaxy Watch 4 and Galaxy Watch 4 Classic, are based on Wear OS 3. This new version of Wear OS is co-developed by Google and Samsung, and brings many new and improved features and applications. One of those apps includes YouTube Music, and it's now available for the Galaxy Watch 4 series.
The new YouTube Music app, which has improved user interface design and the ability to download tracks for offline listening, has a download size of 11.25MB. It can be downloaded to the Galaxy Watch 4 series. via the Play Store. However, you would need a YouTube Premium subscription to listen to music and download music tracks to the smartwatch. These smartwatches recently got access to the new Spotify app which offers offline music playback.
Samsung announced that the Galaxy Watch 4 series would get the Google Assistant, Google Pay and YouTube Music apps. However, these apps weren't available on launch day and the rollout appears to have started with the YouTube Music app. Users can also choose between Google Pay and Samsung Pay on their Galaxy Watch 4.
Did you pre-order the Galaxy Watch 4 or the Galaxy Watch 4 Classic? Otherwise, you can make up your mind after reading our Galaxy Watch 4 review and watching our how-to video at the end of the article.